You asked and we delivered even more great ways to add funds to your MuchBetter account.
This month, MuchBetter launched Ricarica MuchBetter; a new and more convenient way to add funds to your MuchBetter account and access a prepaid virtual card in the MuchBetter app.
Customers in Italy can now visit one of 15,000 available stores and exchange cash or card at the till for prepaid vouchers to top up their MuchBetter account.
Once you sign up for a MuchBetter account and apply your prepaid voucher, you will have instant access to your virtual prepaid card within the MuchBetter app and we will send you a physical MuchBetter card by post to use for your everyday spending.*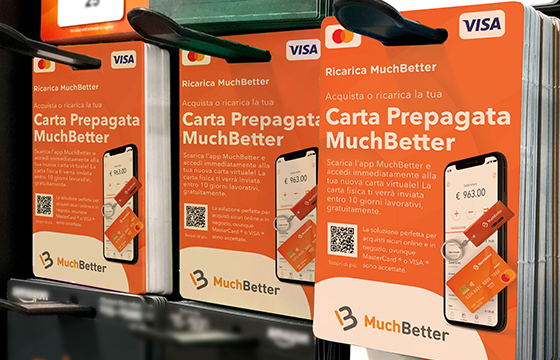 The MuchBetter digital wallet can be used for money transfers between friends and family, saving funds, accessing your new virtual card for online purchases, and much more!
Simply visit a store near you in Italy, purchase a €30, €50 or €100 voucher at the till, enter the PIN from your prepaid voucher into the MuchBetter app and your funds will be credited instantly to your MuchBetter eWallet.**
If you are new to MuchBetter, you will need to download the MuchBetter app on your mobile phone and enter the voucher details to your account.
Unbeatable security:
The CVV number (the 3-digit security number usually found on the back of a card) is held in the MuchBetter app and changes every time you log in, meaning that your CVV number will NEVER be the same, so it's impossible for fraudsters to use your card.
Contactless convenience:
With the recent outbreak of Covid-19, it's now more important than ever to switch from cash to card and make contactless payments whenever possible. Card providers are predicting an unprecedented increase in the uptake of contactless payments around Europe. Not only are they more hygienic, but they are also more secure, and fraud at point of sale has remained at a historic low with contactless payments. Store your money in the MuchBetter app, make online transfers to friends and family for free, and make secure, contactless payments whenever you need.
*Your virtual card will be available in the MuchBetter app once you have completed your account verification. Your physical card will be posted to your registered address within 7 – 10 business days. Please ensure you have entered the correct address at registration. MuchBetter cards are supported by Mastercard and Visa.
**Please note that the top up value of each voucher will be less than the voucher cost, due to a fee payable.
€30 voucher = €28 credit
€50 voucher = €47 credit
€100 voucher = €96 credit