During the pandemic, payments via apps and smartphones have increased the most, since they avoid passing cards and cash from hand to hand. But now, in addition to protection against the virus, there is a new digital wallet that allows you to defend yourself from online theft and fraud. Here's how:
Despite the general fall in spending caused by the coronavirus pandemic, which led to lockdowns and restrictions that caused the closure of many shops, cafes, restaurants and economic and commercial activities, 2020 saw a genuine boom in digital payments, which, according to the data analysed by the Observatory on Innovative Payments at Politecnico di Milano's School of Management, increased from 29% to 33% of the total value of payments in our country, reaching 5.2 billion transactions worth 268 billion euros.
According to the study, payments via contactless cards increased the most (29% increase), but also those made via wearable devices and payment apps installed on smartphones, which increased by 80% compared to the previous year. This success, according to the report, can be attributed among other things to the ability to make payments without physically passing cash and payment cards from hand to hand, thus minimizing the chance of spreading or contracting the coronavirus at the time of contact.
But although fear of the virus and the search for payment methods that can protect consumers were among the main factors driving the boom, we often underestimate, on the other hand, the danger presented by online fraud and theft, which are also "viruses". And even though they are clearly not comparable to Covid, they are still dangerous: not for health of course (at least not directly), but definitely for the savings of the potential victims.
In order to protect ourselves from the pandemic, we are all now used to masks and hand sanitizer, but protecting ourselves from the dangers and pitfalls of the digital world can be more complex. However, this problem can be alleviated by payment services that do more than function as "digital wallets" while putting security first.
MuchBetter certainly stands out among these; apart from the "usual" biometric transaction authorisations (that is, Touch ID or Face ID), the app provides consumers with dynamic CVV codes to authorise online payments using the free debit card linked to one's account.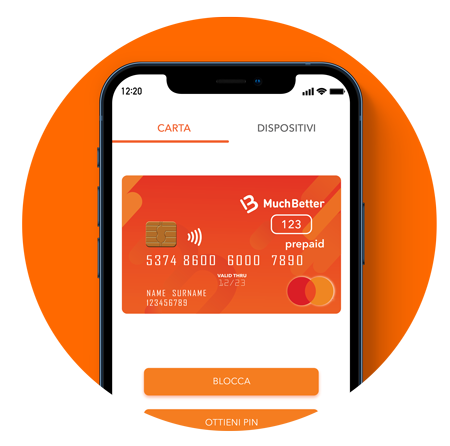 The CVV code is the 3-digit number on the back of credit cards that is requested to confirm online payments. However, that code is not printed on the card issued by MuchBetter, because when a transaction needs to be authorised, it is generated directly by the app installed on one's smartphone and it changes each time. This makes it impossible for the card details to be used online in the event of theft. In addition, MuchBetter uses an automatic transaction review system to ensure that only legitimate payments go through, while "suspicious" ones are reported.
MuchBetter is also economical: not only can the debit card linked to the account be requested free of charge, but there is no fee for money transfers to family and friends made through the app. It is superior to other digital wallets, because instead of permitting top-ups only by linking a bank account or credit card, MuchBetter also allows cash to be "transformed" into digital funds: you just need to buy a top-up Ricarica MuchBetter voucher from one of the 15,000 authorised stores located throughout Italy and the funds will be loaded into the app within minutes.
Iniziare ad utilizzare MuchBetter è molto semplice: basta scaricare l'app da App Store o Google Play, creare un account gratuito ed effettuare la prima ricarica per poter entrare nel mondo dei pagamenti digitali MuchBetter. E se ricarichi il tuo portafoglio acquistando voucher con una delle modalità di pagamento supportate da Cashback di Stato, potresti ricevere anche il rimborso 10% (fino a un massimo di 150 euro ogni sei mesi).