In recent years we have noticed a massive increase in online commercial activity.
Global consumers have discovered the effortless, time saving, safe and enjoyable process of online payments, being a finger tap a way from making any kind of choice.
This trend has taken a leap forward in 2020 and increased by 70% compared to 2019.
During last year, Italians have joined a rapid movement shying away from the use of cash, shifting towards various payment methods available throughout Europe.
Now – more than ever – consumers are looking for simplicity, accessibility and payment safety as the point of entry for the entire enjoyable and exciting experience of paying bills, shopping online or simply addressing their daily payments.
Therefore, it is not surprising that the award-winning MuchBetter Payment App was selected by Italian consumers as their digital wallet of choice.
So, what is a digital wallet?
An digital wallet is a protected digital account based in a mobile app, where you can store and access your money. It offers a great alternative to your typical banking account. Using an digital wallet allows you to keep your funds in one designated place and removes the need to carry cash or a wallet.
You can simply add funds and top up your digital wallet account using Ricarica MuchBetter which can be bought in more than 15,000 accessible stores across Italy!
As you enter the PIN shown on you voucher receipt given instore at time of purchase, your account will be credited immediately allowing you to make seamless, effortless online and offline payments, transfer money to friends and family members FREE of charge.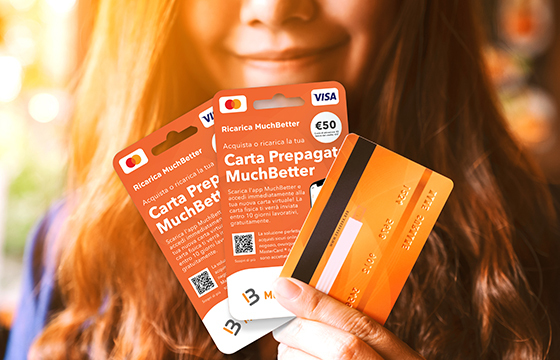 A few great reasons for handling everyday payments, using the MuchBetter digital wallet
EASY: Make all your online payments with the MuchBetter app. Electricity, Gas, Car Insurance and Taxes. Use MuchBetter for your online bill payments with your MuchBetter digital wallet or prepaid card which you can order free of charge when you sign up for the App and verify your account.
EXCITING: Shop online with only a few taps of a finger. Crave that bag from 'Emily in Paris?' or need to order some new clothes from your favourite boutique? or fancy a meal from a nearby restaurant ? The MuchBetter Payment App makes all of that joyful and fun.
SIMPLE: Pay in-store or online with our digital wallet or your free MuchBetter Prepaid Card.That's right! Funded and ready? You can now use the MuchBetter digital wallet to pay online allowing you to shop at Amazon, eBay, Alibaba, and other eCommerce stores in Italy and all over the world, whenever you want, not including your regular in-store shopping and payments!
SECURE: MuchBetter goes above and beyond any other digital wallet to protect your sensitive data.
MuchBetter accounts are protected with device pairing, touch ID, dynamic security codes, and a transaction review system to ensure that only legitimate transactions are performed and approved.
The MuchBetter digital wallet is a prime solution to meet your payments needs. So if you want the easiest, most effective, jaw-dropping way to turn cash into e-money and use online while benefiting from the most secure system, try our MuchBetter digital wallet without any obligations or preliminary payments. Starting from today you can do it instantly with only 3 simple steps:
1. Bezoek uw plaatselijke winkel en koop uw Ricarica MuchBetter-vouchers
2. Download uw MuchBetter-app en verifieer uw account
3. Gebruik de pincode die op uw voucherkwitantie staat om uw MuchBetter-account op te waarderen
So, what are you waiting for?
Your virtual card will be available instantly in the MuchBetter digital wallet App, and we will ship your physical card to your home address within 10 business days. *
Meer weten ongeveer MuchBetter.