MuchBetter is awarded Best Innovation in Payments at the Financial Services Forum (FSF) 2021 Awards for Innovation and receives high commendations for Best Innovation in Customer Service and Most Innovative Security Solution.
FSF is a membership community of senior marketing leaders in financial services. The Awards for Innovation was launched by the FSF in 2018 and winning an award from this event is a real feather in the cap to any business in the finance industry.
Entrants of the Awards for Innovation are required to demonstrate how the innovation achieved or exceeded its objectives and goals, and how it added value for themselves and their customers. Judges for the Awards for Innovation are carefully selected for their unique specialism in innovation, ranging from retail banking to insurance, inclusive finance, strategy, and pensions.
Innovation is the momentum to take an existing product or service and improve it and/or disrupting a product or service by developing an entirely new approach.
MuchBetter wins award for Best Innovation in Payments
MuchBetter recognised a growing consumer market opportunity for new contactless payment solutions powered by its digital wallet, especially with contactless limits being raised to £45 and now to £100.
For merchants, the difficulty and expense of KYC processes under regulations such as a second Payments Services Directive (PSD2) is a significant pain point when receiving physical and online card transactions. KYC processes can be long or complex, which means that users simply give up.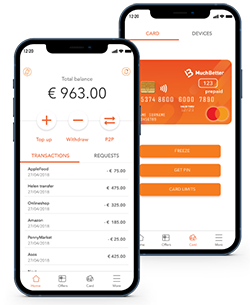 The challenge for MuchBetter was to remove friction between merchant and customer without compromising on security. Through MuchBetter's open-API, the merchant sends the payment request to the customer's MuchBetter-app and the customer simply approves a transaction via their app with Touch-ID, and their money moves to the merchant in real-time. There are no passwords, no security questions, no email registration, no usernames, no redirects. It is a seamless customer payment journey yet offers strong SCA-compliant customer authentication.
In the last 12 months, MuchBetter has grown from 35 to almost 100 members of staff, serving ~400,000 more customers, expanded into 30 additional countries, and partnered with 200 new merchants.
Aside from its worldwide expansion, one of MuchBetter's most significant achievements is to eliminate online fraud. Indeed, there have been no instances of third-party fraud on MuchBetter cards to date.
MuchBetter was launched in 2017, by a team of payments industry veterans who combined best in class technologies such as tokenization, 2FA authentication, biometrics, dynamic tokens on e-money rails along with its own patented technology to create a second-generation digital wallet product.
Since 2017, the top iGaming industry titles have covered MuchBetter's disruption of the payments industry monopoly. Meanwhile Wired, The New York Times, GQ, Metro and many other consumer titles have showcased its cutting-edge payments products like the Winwatch and CashCuff.
MuchBetter was also highly commended at the Innovation Awards in the categories for Best Innovation in Customer Service and the Most Innovative Security Solution.
Simplify your payments process with MuchBetter integration
The MuchBetter app combines state-of-the-art technology, security, and user experience. Simple integration, fraud management, and frictionless payment mean that both you and your customers benefit from choosing MuchBetter.
To speak with our team about how the MuchBetter API can support your business, please email business@mirlimited.com